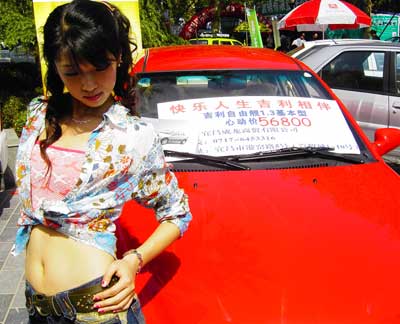 At least four Chinese automakers are expected to take display space at the 2007 North American International Auto Show in Detroit, US media reported.
In January 2006, China's Geely Automobile made debut by a Chinese carmaker at the US auto show. It exhibited a $10,000 small sedan to reporters only in a booth outside the show's main hall. This year, Geely will come back.
Moreover, three other companies, including Hunan Chang Feng Group, Great Wall Motor Company and Hebei Zhongxing Automobile Company, are also in talks for display space in Cobo Hall of the January 2007 show, said the Detroit News.
US show officials said it's a prelude for the entry of Chinese-made cars to the United States.
Though still a small player compared to the world's biggest auto manufacturers, Chinese carmakers are considering measures to boost their overseas sales. The Chinese government also hope that automobiles will become an increasingly important component of the country's exports, according to earlier report. Geely, the Chinese mainland's largest private automaker, last year sold about 7,000 sedans in more than 30 countries and regions, mostly in the Middle East, Africa and Central America. It announced plans to begin exporting cars to the US mainland in 2008. Zhongxing wants to sell 40,000 vehicles in the United States annually starting next year, including a pickup and an SUV.
The Chery Automobile, an independent Chinese carmaker based in East China's Anhui Province, hopes to enter the US market in 2008, the newspaper said
Tags:
chery
geely
nanjing
hafei
zhonghua
SAIC
lifan