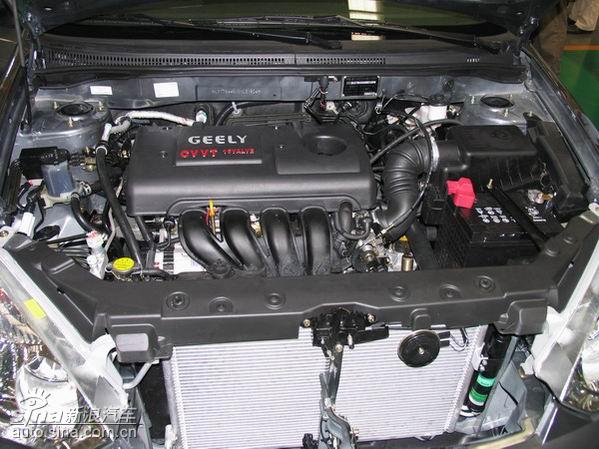 Jin Jing
2006-08-09
GEELY Automobile Co Ltd began mass production yesterday of the country's first domestically developed engine using high-power valve technology, a key step on the road toward a fully Chinese-made auto.
Geely, which specializes in producing small vehicles and is China's leading private carmaker, has invested more than 100 million yuan (US$12.5 million) to develop the new engine. It is the first domestic automaker to apply the highly advanced CVVT - continuously variable valve timing - technology, the company said.
The 1.8-liter aluminum engine, which meets Euro 3 emission standard, will be able to produce a 140 horsepower, equaling Toyota's new CVVT engine, according to Geely.
Geely's Ningbo plant in Zhejiang Province will be in charge of engine production and is expected to turn out 50,000 units a year.
Zhejiang-based Geely said it has no immediate plans for exports.
The advanced engine will be used to power Geely's upcoming FC-1 sedan as well as its Formula One cars, helping it to break into the mid- to high-end car segments.
"The advance self-developed engine could clear the way for Geely to offer more price-competitive models and save a lot on costs," said Zhang Xin, an analyst at Guotai Jun'an Securities Co Ltd.
Chinese carmakers, which must spend heavily to buy engines from foreign rivals, have traditionally lagged in making core auto components.
The lack of ability in this area has been the main hurdle for Chinese car producers to develop autos using their own technology, which is a target as outlined in the central governments latest five-year plan.
An increasing number of Chinese automakers, including Brilliance China Automotive Holding Ltd and Chery Automobile Co Ltd, have stepped up efforts to make their own engines - and their own cars.
Brilliance China, the domestic partner of BMW, used part of its HK$1.5 billion (US$193 million) bond sale to produce its own 1.8-liter turbocharged engine, which generates 10 percent more power and consumes less fuel than current engines. And Chery Automobile Corp teamed up with an Austrian engine design company to jointly develop 18 aluminum gasoline and diesel engines.
Tags:
chery
geely
nanjing
hafei
zhonghua
SAIC
lifan