Hello Erik,
First, thanks for addressing a question to me. I consider it an honor.
Huakai had been a sub-brand of FAW, much like Jiefang, and included light, medium, and heavy commercial vehicles.
The pickups that you allude to comprise four models till now:
CA1020KBL8C1R
CA1020EL8C1R
CA1021ELBC1R
CA1030KBLBC1R
(Note - some characters are "
B
", some are "
8
")
All are double-cabin pickups, with the last two having longer cargo beds. These models have been approved by NDRC in Notices #251 and #255.
The manufacturer is officially given as Changchun FAW Light Vehicle Factory (长春一汽轻型车厂), but this company is known from 2010 onward as
Changchun FAW Huakai Automobile Co.
(长春一汽华凯汽车有限公司).
Interestingly, this is not part of the FAW group, but was acquired from FAW along with three other companies, i.e. -
FAW (Sichuan) Special Purpose Vehicle Co., Ltd.,
Changchun FAW Hongding Automobile Co. Ltd,
Harbin FAW Gearbox Factory.
- by the Chengdu-based Mingjun group around 2009 under a disinvestment plan by FAW. It is reported in some financial articles that Mingjun owns 65-80% of these companies, with FAW being a minority shareholder.
Even more interestingly,
this article
mentions that the new pickups which have recently gained approval, were developed in cooperation with, guess who? -
Kawei
!
The Huakai factory is in Changchun and
this article
here claims that Mingjun group is heavily investing in the Changchun plant to modernize the plant and enhance capacity.
Links:
Mingjun Auto Group:
http://www.mingjunauto.com/
Corporate Structure:
http://www.mingjunauto.com/simple-10-2-2.html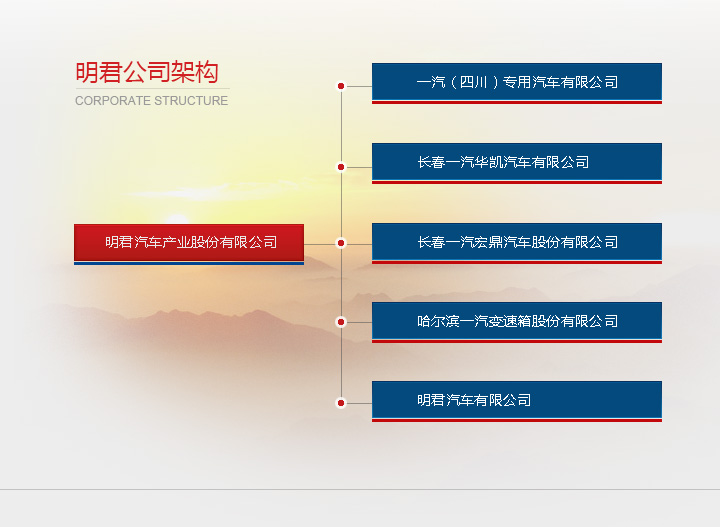 (The second "branch" in the organization tree is Huakai)
Mingjun subsidiary list:
http://www.mingjungroup.com/List/27.html
Brief description and history of Huakai :
http://www.chida.gov.cn/showNews.do?id=2074
As for production, I simply have no information. Since they have approval, trial or pilot production may be taking place, but I am not aware. If you (or any other member) come across any information contrary to this, please feel free to share.
I think you already know much of what I have said above, but I still wrote it down for the benefit of other visitors and to elicit any valuable responses from them.
Also, a couple of pics to let visitors know what we are talking about.
Source: Chinacar.com.cn