Changfeng to make China's first hybrid SUV.
April 2, 2009 - As the earliest Chinese SUV maker, Changfeng Motor is set to launch China's first hybrid SUV model, which is codenamed Liebao (Leopard) CS7 Hybrid, reported West China City Daily.
Industry experts said that its successful development and manufacture of the hybrid SUV has made Changfeng Motor a leader in the Chinese SUV section, with its R&D capability and technology reaching the world's state-of-the-art SUV standards.
Currently, there are only a few manufacturers of hybrid SUVs in the world, and less than 10 hybrid SUV models are available in the global auto market. Most of them are high-end hybrid SUV models of luxury brands, such as BMW, GM, Mercedes-Benz, and Lexus.
The release of Changfeng Motor's Liebao CS7 Hybrid marks China's having its own hybrid SUV manufacturing technology. The Changsha, Hunan-based SUV-maker said this world-class hybrid power system will be first applied to the CS7 model, which can start volume production soon.
Changfeng Motor aims to sell 280,000 vehicles annually by 2010. The company will launch two new models in each year to reach that sales goal. Of the 280,000 sales target, there will be 100,000 sedans, 100,000 pickups, and 80,000 SUVs.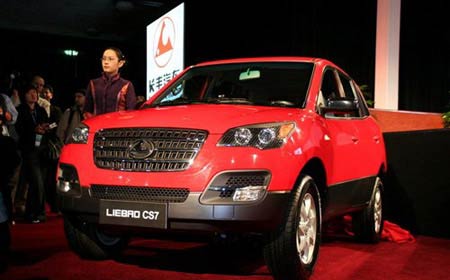 source: Gasgoo.com