China's Huanghai pickups to be assembled in Nigeria
December 3 (Gasgoo.com)
BMGAUTO International and China's SG Automotive Group have been selected by the Ondo State Government of Nigeria in West Africa to build a CKD assembly plant of Chinese pickups, said a recent email from BMGAUTO International to Gasgoo.com.
Liaoning SG Automotive Group Co., Ltd. of China will supply the CKD parts for the Aurora and Plutus pickups. "We have already broken earth on this project to be completed by June 2010. The production capacity will be 10,000 units per year," BMGAUTO said in the email message.
Interviewed by Gasgoo.com yesterday, SG Automotive's subsidiary Huanghai Automobile Sales Co., which is in charge of export business of Huanghai-brand pickups and SUVs, confirmed that SG Automotive has reached a preliminary agreement with BMGAUTO for cooperation.
According to Huanghai Automobile's export executive Monica Wan, BMGAUTO is planning to introduce the Chinese auto company's assembly and related quality-control equipment. The two sides have clear intention of partnership and are optimistic about the prospect, she added.
Liaoning SG Automotive Group Co., Ltd., located in northeast China's Liaoning province, is an international automotive industry group and one of the major vehicle exporters in China. Currently its products are exported to Africa, South America and other overseas markets.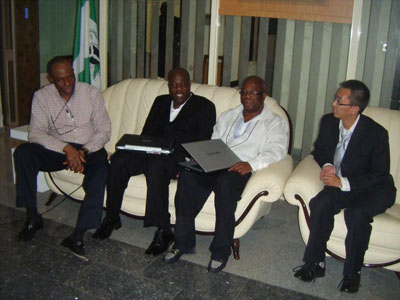 A photo taken during the ceremony. In the photo from L-R The Honorable Governor of Ondo State Dr. Mimiko, Dr. Adebayo Lanke Bademosi Chairman BMGAUTO, Engr. Andre Bademosi President BMGAUTO and Mr. Kevin Dapeng of SG Automotive of China