Last November at a press conference introducing BYD's plan to electrify public transport, Chairman Wang Chuanfu talked about extending the company's EV line beyond the e6, F3DM, and K9 to include a "T" series of light-duty trucks–the T3, T5, and T7. The cargo carriers will be designed to run delivery routes in urban areas at relatively low speeds. Clear photos of the T5 recently showed up online, giving us a first look at the pure-electric truck. Also spotted was an e6-derived van, which we suspect to be the T3 under development.
BYD T5
The T5 is styled like an ordinary single-cab, flat nose van. However, both the cabin and truck bed are elevated to make room for the battery pack, which is installed under the cargo area. As shown in the pics, the truck bed is significantly higher than the wheels–while they are about on the same level on conventional vans. Metal boards are installed on both sides below the cargo box to protect the battery back and drivetrain. The Chinese word painted in green on the vehicle says "all electric," with "Zero Emission" written below it.
There is currently little confirmed information about the electric truck. A rough estimate of the EV's driving range is about 200km, compared with the e6′s 300km.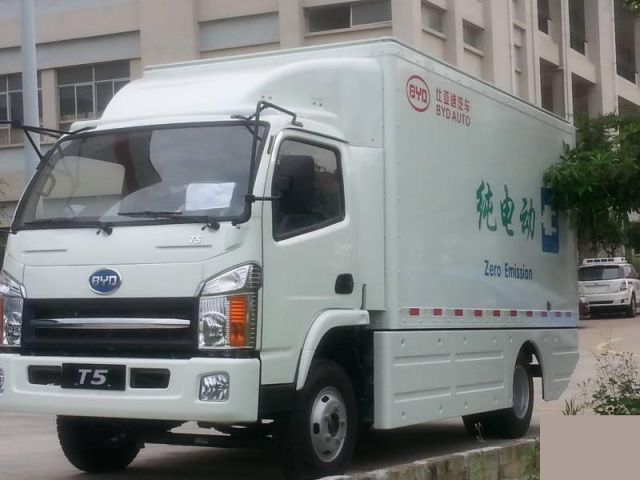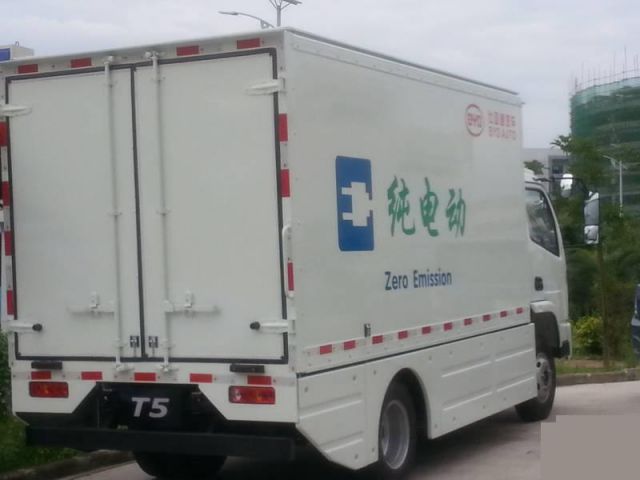 BYD T3
The e6-derived van was spotted on BYD's Shenzhen campus. The rear half of the pure-electric sedan, behind the B-pillar, was transformed into a cargo box. Assuming the van gets essentially the same powertrain as the e6, it could cover about 200km on one charge.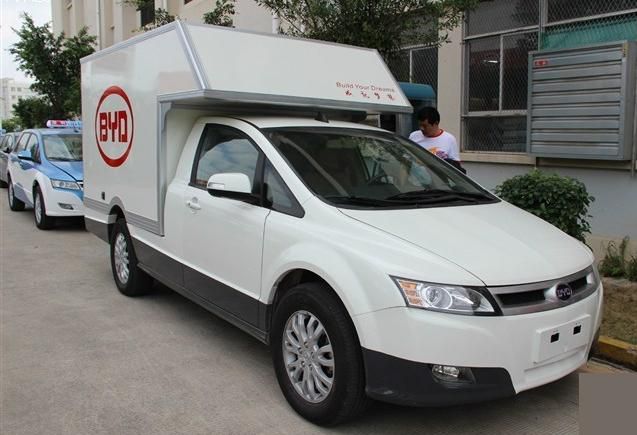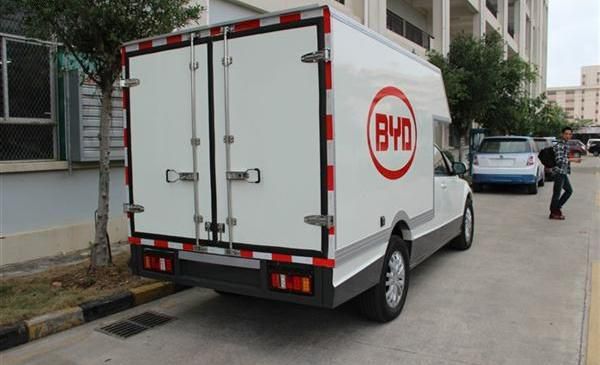 source:
http://chinaautoweb.com/2013/07/byd-t5-pure-electric-truck/
BYD dump truck:
http://www.trucksplanet.com/index.php?id=960