Brief Introduction to HF Automobile Group form their website.
Harbin HF Automobile Industry Group Company Ltd. is a backbone production enterprise and R&D base of automobile and automobile engine of China.

The group was established on March 7th 2006 and has enterprises such as HF automobile factory, Dongan engine factory, Dongan engine manufacturing company Ltd., Dongan Electro-mechanic company, Shenzhen and Weihai subsidiaries. The group has now more than 11,000 employees, among which more than 1,200 are middle and senior technique and managing personnel. The group covers an area of 1.48 million m2 and has a built area of 577,700 m2 and 11.14 billions RMB of total assets. At present, the group has an annual production capacity of 400,000 automobiles and 550,000 automobile engines. Up to the end of 2005, the group has produced and sold totally more than 1.43 million of various types automobiles of which 40,000 automobiles have been exported and 2.72 millions of engines. Up to now, the products of the group have been exported to more than 40 countries.

The group has its own automobile and automobile engine research and development center and various types of advanced experimental installations and equipment. For years, the technical cooperation with famous international enterprises of Italia, England, Austria and Japan has built in all around-way the technical contingent of the group. Now, the group has more than 2,000 many-sided engineers and technicians who give important play in research and production and in future development of the enterprise

Following the way of cooperation, introduction and independent development and persisting in enterprise technical advancement and innovation all along, the group has opened an independent innovation way suitable to its characteristics and its automobile products have passed from single mini-automobiles to economic and middle class cars. At present, the main automobile products of the group are of approximately one hundred varieties of 5 series comprised of mini-cars, minibus, mini-trucks, MPV and 3-box cars, divided into 3 categories of HF Zhongyi, HF Lobo and HF Saibao series designed and developed jointly with Italia, of HF Saima series developed with technology introduced from Mitsubishi of Japan and of series of HF Minyi, HF Ruiyi, HF Baili and Songhhuajiang minibus and mini-trucks, designed and developed by the group it-self.

The automobile engines of the group are of 3 series composed of several tens of varieties covering engines of all golden displacements from 0.8-2.0 liters and satisfying national laws and regulations requirements on emissions and fuel economy. The main engine models are DA468 series, DA471 series, and 4G1/4G9 series developed in cooperation with Mitsubishi of Japan. All these products features advanced technology, excellent power performance, reliable security, fuel economy and wide practicability.

The quality principles of the group is: "The customer the supreme, the quality the first, persisting in improving and seeking excellence." The group has obtained successively the quality management system certificate, the environment management system certificate/professional health and security management system certificate and ISO/TS16949: 2002 quality management system certificate of automobile trade, issued by TüV Rheinland of Germany, assuring effectively the product reliability and the production conformity.

The group has its sales networks covering the whole country, adhering to principles of mutual benefit, mutual trust and mutual support, it promotes actively the sales way of selling- maintenance-spare parts-information "all four in one" and encourages exclusive selling of HF Automobile brand automobiles.

While providing customers with excellent products, the group has established special technique service stations allover the country to assure good service to customers in time. The group has earned trust of the vast customers with its top-quality products and in-time good service and thus it has established good market prestige.?

HF Automobile group wishes to cooperate faithfully with both Chinese and foreign merchants and together with the vast customers who have favor on HF automobiles, to go ahead hand in hand and to create jointly a glorious future.
Hafei Motors (哈飞汽车) was founded in 1950 and based in Harbin, Heilongjiang province. It was a subsidiary of Harbin Aircraft Manufacturing Corporation (HAMC), a large military-airplane maker.
Originally, Hafei was just a repair and assembly shop, without much manufacturing. That changed in the mid-1990's when Hafei signed a license agreement with Suzuki to manufacture the Suzuki Carry minivan.
Initially, Hafei sold these cars under the Songhuajiang brand, named after the Songhua River, which crosses Heilongjiang. Designation was HFJ. As Chinese carmakers are wont to do, Hafei soon made more variants of the Carry than Suzuki ever did. In 2002, the Songhuajiang name was dropped and Hafei Motors started selling under the Hafei brand.
In 1997 Hafei moved into real passenger cars with the Hafei Baili HFJ7090.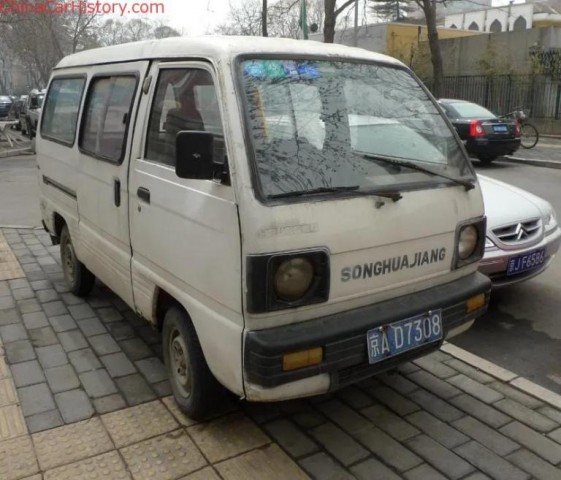 Songhuajiang HFJ6359