Discussion Starter
·
#1
·
Introduction of the company
Matchedje Motor is the first national motor brand for Mozambique. With continuous development of the automobile industry nowadays, the car has become a integral part of people's lives in Mozambique. The establishment of Matchedje Motor brand has changed the history that there is no national automobile industry in Mozambique. Now Mozambique has its own car!
Matchedje Motor is established in Mozambique and has a business radiation throughout the African market. We will introduce advanced automobile production technology and management philosophy to realize localization gradually . According to the industrial conditions and market demand in Mozambique, the major products launched will be bus, minibus, car, SUV, pickups and trucks. Our products will cover full range of models of small, medium or large, diesel fuel or gasoline fuel, two-wheel drive or four-wheel drive and full-load or non-load motors.

We plan to build a 590 hectares industrial park with capacity of all kinds of vehicles reached about1 million in 5-10 years, the industrial park will produce a variety of auto parts, and form an industrial chain of machinery, chemicals, light industry and electronic automobile, thus fully promote the automobile industry and the economic development of the Republic of Mozambique. We will also establish distribution network in 17 major cities in 27 provinces in Mozambique and build the sales network which can radiate throughout Africa.
http://matchedje.org/index.php
First car - Matchedje pickup - is a rebadged Fudi F16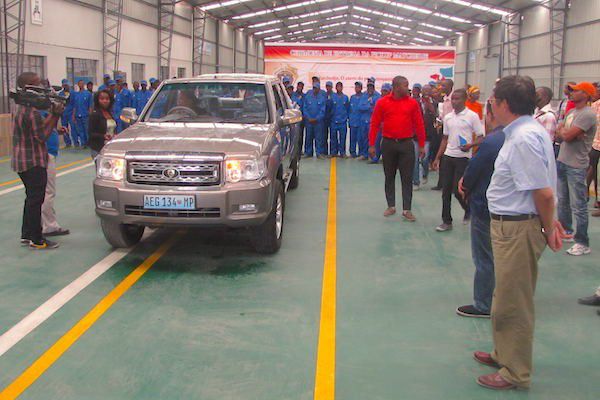 Launching ceremony:
http://matchedje.org/index.php?ac=article&at=read&did=679
Video presentation:
https://www.youtube.com/watch?v=DMOrpqgHld8